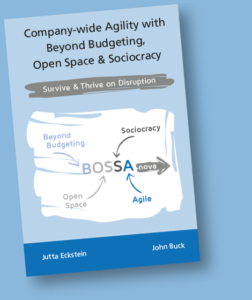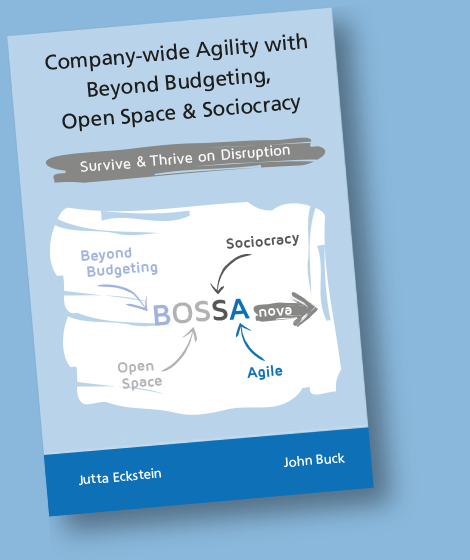 Agile 2019, Washington DC, USA (August 5-9)
– Workshop on Beyond Agile – Thriving on Digitalization with Beyond Budgeting, Open Space & Sociocracy (August 5)
– Workshop on Using Beyond Budgeting & Sociocracy for agile-friendly performance appraisals (August 6)
Virtual Meetup by Coaching Agile Journeys (August 13)
– A personal conversation on the hidden power of organizational Open Space, an element of BOSSA nova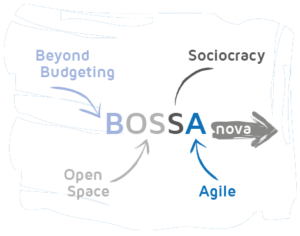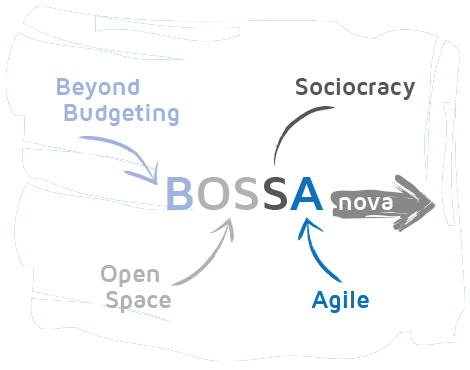 BOSSA nova is…
… an approach for company-wide agility. It enables your company to be agile, nimble, and flexible by combining
Beyond Budgeting (adaptive budgeting),
Open Space (leveraging the power of innovation from all employees),
Sociocracy (flexible organizational structure that allows decentralized decision-making), and
Agile (continuous learning via experiments and feedback).
Sample Chapter
BOSSA nova is for everyone in the company. You can start using it right away.
Have a look in the book! Download a sample chapter...
Sample Chapter
BOSSA nova makes company-wide agility possible.
Agile just by itself is revolutionary in the software world. Here's what McKinsey said about Agile in October 2017:
"Agile performance units excel most often at strategy and people-related practices, and they outperform all other units in stability and dynamism."
How can I Implement BOSSA?
Implement by probing, by doing experiments to understand the complexity of your organization's Strategy, Structure, and Processes.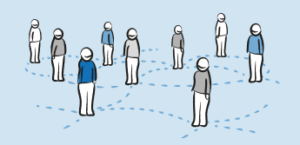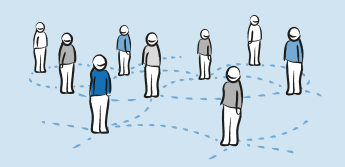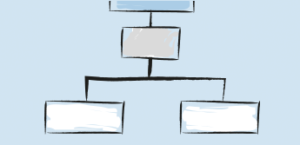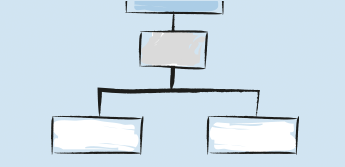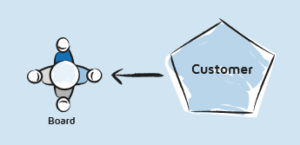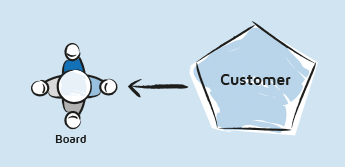 Strategy
Is trust cheaper?
How can we both self-organize and stay aligned?
Structure
Should we change our legal structure?
Can our board of directors include a CEO, a representative elected by staff, and a customer without interfering with the board's work?
Processes
How include customer feedback in board meetings?
Can we organize transformative learning?
Find out more by meeting us
Here is where we're presenting next:
Agile 2019, Washington DC, USA (August 5-9)
– Workshop on Beyond Agile – Thriving on Digitalization with Beyond Budgeting, Open Space & Sociocracy (August 5)
– Workshop on Using Beyond Budgeting & Sociocracy for agile-friendly performance appraisals (August 6)
Virtual Meetup by Coaching Agile Journeys (August 13)
– A personal conversation on the hidden power of organizational Open Space, an element of BOSSA nova
NDC Tech Town, Kongsberg, Norway (September 2-5)
– 2-day Workshop on Company-wide Agility with Beyond Budgeting, Open Space & Sociocracy (short: BOSSA nova) (September 2-3)
– Talk on BOSSA nova in a Nutshell: Overview on the Synthesis of Beyond Budgeting, Open Space, Sociocracy & Agile
Agile Rock Conference 2019, Kiev, Ukraine (September 20-22)
– Keynote on Dance the BOSSA nova! How Beyond Budgeting, Open Space & Sociocracy enable Business Agility (September 21)
Bosnia Agile Day 2019, Sarajevo, Bosnia and Herzegovina (October 19)
– Keynote on BOSSA nova: Company-wide Agility with Beyond Budgeting, Open Space & Sociocracy
Sessions & trainings on related topics
– Jutta's upcoming events on Agile (and of course also on BOSSA nova).
– Events calendar for deep dives in Beyond Budgeting.
– Events calendar for Open Space by the Open Space World.
– Training options by Sociocracy For All.
– Events calendar on agile (un)conferences & trainings announced by the Agile Alliance.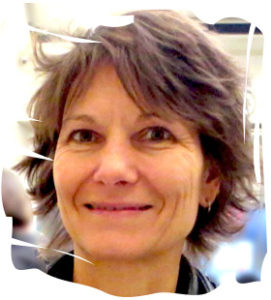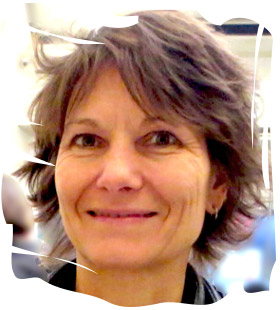 Jutta Eckstein works as an independent coach, consultant, trainer, author and speaker. She has helped many teams and organizations worldwide to make agile transitions. She is experienced in applying agile processes within medium-sized to large, distributed mission-critical projects and has written about her experiences. She holds a M.A. Business Coaching & Change Management, a Dipl.Eng. Product-Engineering, and a B.A. in Education.
She is a member of the Agile Alliance (having served on the board of directors from 2003-2007) and a member of the program committee of many different American, Asian and European conferences, where she has also presented her work.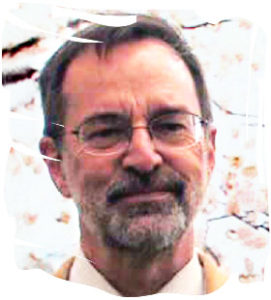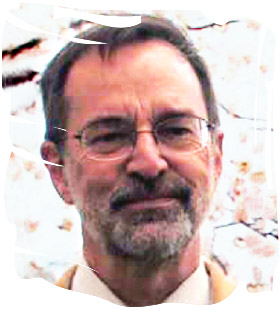 John Buck is the coauthor of We the People: Consenting to a Deeper Democracy, about sociocracy, a sustainable system for organizing and running organizations. In one sense, sociocracy is democracy specially designed for use in organizations. He heads a division of The Sociocracy Group an international training and consulting organization headquartered in the Netherlands. John has many training workshops and sociocracy implementation projects for a variety of organizations. John's research and development is ongoing. For example, he is working with Fujitsu's advanced software lab to develop Weaver, software that helps meetings go better – in-person, online, and asynchronous.
John Buck has extensive management experience with government and corporations, including managing large information technology projects. John is the first person, not native to the Netherlands, to be certified in the sociocracy circle-organization method. His clients spanthe globe and include plastics manufacturers, colleges and universities, long-term care facilities, co-housing groups, NGOs and software company's. By guiding clients in "rewiring" their basic power structure he helps them toward greater efficiency and increased employee engagement.
We'd love to hear from you. Contact us at: